Video chat for new and used bicycles as well as repairs
(and many other industries)
Due to the current crisis, bicycle providers and repair shops will have to plan for several months with restrictions in their business processes. Therefore, it is now important to find new ways and maintain relationships with your customers and win new prospects.
An advisory service over the phone for new and used bikes is a step in the right direction. But you can only get a real experience with video calls. Interested parties can experience bicycles, examine details and get explanations visualized. This is how you establish an additional crisis-proof communication and sales channel!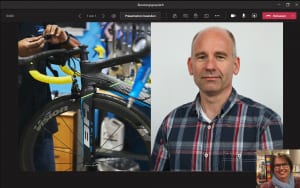 When discussing repairs, a video call can also clarify necessary work more quickly and interactively and make damage / weak points more visible.
As a long-standing Strategy Lead Modern Workplace in the sports and mobility sector at Microsoft, I know these challenges and how to successfully solve them. As an independent consultant, I can now offer you tried and tested, cost-effective solutions.
Years of experience and more than 150 successfully completed projects give you the security of choosing the right partner with us.
Arrange a non-binding consultation appointment with us (also as a video conference). You can reach us by email at martin.arnold@dtpa.tech or by mobile phone 01573/3706464.