Microsoft has unveiled the future of Microsoft Copilot – a groundbreaking development that has the potential to fundamentally change the way we work.
Availability: September 26 and November 1.
The Copilot icon – creating a unified user experience that will be rolled out across all Copilots – is first released in Windows on September 26. Microsoft 365 Copilot will be generally available to enterprise customers on Nov. 1. As a long-time Microsoft IT consulting and implementation partner, we are pleased to share the latest information on this digital assistant.
Microsoft Copilot promises to be a digital companion for your entire work life. It does so by creating a unified user experience across Bing, Edge, Microsoft 365 and Windows. It's a comprehensive suite of tools and services designed to streamline the way you work and increase productivity. As your trusted partner in Microsoft technology, today we'd like to give you an overview of the key innovations and capabilities.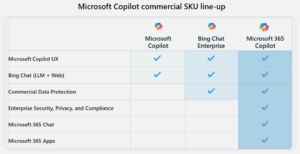 Microsoft Copilot in Windows
Microsoft Copilot will be available in Windows as early as September 26. This tool will allow you to complete tasks faster and easier and reduce your cognitive load. As a Microsoft partner, we're here to help you make sure your implementation goes smoothly. We'll help you harness the power of Copilot, whether it's by integrating it into your taskbar or customizing it to meet your unique needs.
Bing Chat Enterprise
When it comes to using, but also protecting, sensitive corporate data, Bing Chat Enterprise is the answer. As a trusted Microsoft partner, we're here to help you implement it. Bing Chat Enterprise ensures that your business data is never exposed outside your organization. We help you seamlessly integrate Bing Chat Enterprise into your existing Microsoft 365 environment.
Microsoft 365 Copilot
This is your personal digital assistant at work. Microsoft 365 Copilot offers the highest level of security, privacy, compliance and accountable AI. As an experienced Microsoft partner, we help you implement Microsoft 365 Copilot to ensure that all data processing operations take place in your Microsoft 365 environment. We help you realize the full potential of Microsoft 365 Copilot and integrate it seamlessly with your existing workflows.
Copilot Lab
The launch of Copilot Lab shows that Microsoft not only provides products, but also training opportunities for users and teams. As your IT consulting and implementation partner, we help you learn and implement best practices for working with AI. Copilot Lab provides training to optimize the use of Microsoft 365 Copilot and build new work habits for the AI productivity era.
Further development and integration
New features and integrations in applications such as Outlook, Word, Excel, OneNote, Stream, and OneDrive offer you more and more ways to optimize your work and unleash your creativity. We're here to make sure you take advantage of these new features.
Responsible use of Copilot
As your trusted Microsoft technology partner, we want to emphasize that Microsoft has followed strict responsible AI and privacy principles in developing Copilot. You can use Copilot without worries, as Microsoft allows you to use Copilot services and the output they generate without concerns about copyright claims.
Implementation support
At DTPA, we look forward to supporting your implementation of Microsoft Copilot and helping you realize the full potential of this innovative technology. Together, we can transform the way you work and take your productivity to a new level.
Contact us today to learn more about how Microsoft Copilot can help drive your business forward. We are your trusted partner on the road to digital transformation. You can reach us by eMail at martin.arnold@dtpa.tech or by phone +49 2236 322001. You are also welcome to contact Martin Arnold directly on mobile +49 1573 3706464.