Why you can't go past an Employee Experience Platform now!
If we look beyond the current situation, we need to prepare companies for the future and define the work of tomorrow. In doing so, there are a variety of requirements:
The most important point is to create a work environment that inspires as well as motivates employees and provides them with the necessary tools, information and collaboration opportunities. This has a direct impact on productivity, well-being and commitment to the company.
By putting the employee at the center, other goals such as customer satisfaction, revenue growth, market share, or even collaboration across organizational boundaries are promoted at the same time.
Components of a comprehensive strategy
Many buzzwords are used today. Therefore, it is helpful to work with the following definitions:
A Digital Workplace is defined as a central digital work platform or hub that provides information, tools and services independent of location.
A Social Intranet is a software or online platform that promotes the exchange of information within companies. Unlike the Internet, it is only accessible to a specific group of people (employees, customers, suppliers).
Social Collaboration refers to the cooperation of people in projects, groups or even teams with the help of the Internet and electronic media.
An Employee Experience Platform as a holistic solution
The general conditions described above now lead to requirements for an enterprise experience platform: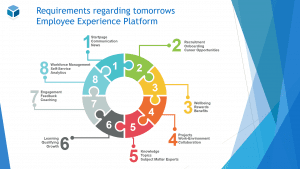 EXP
In our opinion, we can speak of an Employee Experience Platform (EXP) when the eight elements outlined above are covered and this EXP integrates seamlessly into the existing infrastructure.
Successful projects are characterized by bringing together communication, knowledge, learning, resources and insights into a holistic experience that enables people and teams to perform at their best from anywhere. Ease of use and user acceptance are also key.
Key players you should have on your radar
Many vendors have evolved their solutions during the crisis, becoming EXP providers in their own right or extending market-leading ecosystems such as those from Microsoft, IBM, Google or SAP. Your industry, infrastructure, solution already deployed and user preferences will determine which solution or combination of solutions you choose:
Microsoft Viva
Microsoft's Viva brings together communications, knowledge, learning, resources and insights into an integrated experience that enables people and teams to perform their best from anywhere. Based on the full breadth and depth of Microsoft 365, it is complemented by Microsoft Teams and other Microsoft applications that people use every day.
Employee Experience & Engagement | Microsoft Viva
Simpplr
Transform your communication and culture with modern intranet software! Simpplr is specifically designed to help your employees collaborate across departments and stay connected with your entire organization.
Intranet Software – Employee Intranet Solutions | Simpplr
Lumapps
Digital Workplace and communication platform in one! LumApps Digital Workplace and Communication Platform gives you the power to connect, collaborate and engage with your employees.
LumApps: Employee Communication & Collaboration Platform
Igloo
The leading next generation intranet! Igloo enables organizations to move beyond a traditional intranet to a digital workplace. A destination that brings people and resources together to solve critical business challenges – and cultivate a strong corporate culture.
LumApps: Employee Communication & Collaboration Platform
Staffbase
The world is changing. So is internal communication. With the leading employee app and intranet platform, you can finally reach all employees. Build trust and increase user numbers with a branded app in your corporate design.
Staffbase: Build a Best-in-Class Employee Experience | Staffbase
Powell 365
Connect your employees in the hybrid workplace with Powell 365! Discover the comprehensive digital workplace. Powell Intranet enables and informs your employees with the intranet in Microsoft 365. Powell Teams increases your use of Microsoft Teams including strong governance features.
We Connect Your Employees | Powell Software Digital Workplace Products (powell-software.com)
Beekeeper
Reach all your employees across shifts, locations, and languages with an easy-to-use workplace communication app designed for mobile devices. Increase productivity by providing access to critical information.
Coyo
Internal communication is more important than ever right now, as the Corona Crisis creates both new challenges and new opportunities. From home office to digitalization to new work – we support you in the implementation and bring your internal communication to a whole new level.
COYO – the No. 1 Social Intranet for Companies (coyoapp.com)
As part of our Accelerated growth / growth hacking – DTPA approach, we are happy to accompany you from concept creation, integration into existing concepts, repositioning to technical implementation and follow-up as needed.
Our Background:
As a long-time Strategy Lead Modern Workplace (Microsoft 365, Office, Teams) and Partner Manager at Microsoft, I know the challenges and how to solve them successfully. As an independent consultant, I can now offer you proven & cost-effective solutions.
With over 150 successfully completed projects, we can draw on a wealth of experience and offer the right approach for you as well. We are at home in a wide range of industries and know all target groups, B2B or B2C, old or young, digital native or newcomer.
Arrange a free first consultation (gladly also as a video conference) via eMail at martin.arnold@dtpa.tech or via cell phone +49 1573/3706464 to discuss your possibilities.